Ian Brady and Myra Hindley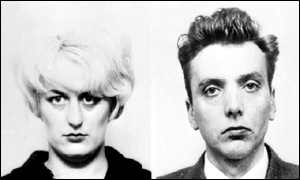 Nickname: The Moors Murderers
Reign of terror: 12/7/63 - 6/10/65
Motive: No motive really, except perhaps sex, the desire to dominate and fun.
Crimes:
| | | | | |
| --- | --- | --- | --- | --- |
| Date | Victim | Age | Crime | Place |
| 12 / 7 / 63 | Pauline Reade | 16 | Murder | Saddleworth Moor |
| 23 / 11 / 63 | John Kilbride | 12 | Murder | Saddleworth Moor |
| 16 / 6 / 64 | Keith Bennett | 12 | Murder | Saddleworth Moor |
| 26 / 12 / 64 | Lesley Ann Downey | 10 | Murder | Their house |
| 6 / 10 / 65 | Edward Evans | Teenager | Murder | Their house |
Method: Brady and Hindley would cruise around Manchester looking for a victim. They would then bribe them into their vehicle, and drive out to the moor, using various excuses. Brady would then sexually assault their victim, and kill them. This was done in a variety of ways - slashing of the throat, strangulation, and with Evans, Brady hit him repeatedly over the head with an axe, and finished it by strangling him with some electric flex.
Sentence: Brady was charged with the murder of John Kilbride, Edward Evans and Lesley Ann Downey. He received three life sentences.
Hindley was charged with the murder of Edward Evans and Lesley Ann Downey, and harbouring Brady after the murder of John Kilbride. She received two life sentences, and seven years for the harbouring offence.
Interesting facts: The murder of Lesley Ann Downey created a particularly strong reaction from the public. The reason for this is that Brady took pornographic photos of her before her death. He also tape recorded her last fifteen minutes of life, as she pleaded for him to stop. This was used in evidence at the trial.
The death of Edward Evans had a particular motive - to make David Smith, Hindley's brother-in-law, Brady's accomplice. Smith witnessed the murder, which was more bloody than the others, due to Evans' age. Brady tried to set Smith up, by handing him the axe, and making him take the body into another room. As Brady had sprained his ankle in the struggle, they could not dispose of the body that night, and so they arranged for Smith to return the next day. In the meantime though, Smith had reported the crime to the police. Evans' body was still in the house when the police arrived.
A fortnight after the arrest, the bodies of Lesley Ann Downey and John Kilbride were found buried on the moors. It wasn't until 1987 that the body of Pauline Reade was found, despite Hindley being temporarily let out of prison in 1986 just to help with the search. Keith Bennett's body has never been found.
Hindley and Brady are often in the press even now, with things like Brady going on a hunger strike, and Hindley applying for parole.